Buying and selling big-ticket items is a complicated process. Real estate is perhaps the biggest of the big tickets. Buying and selling homes involves large sums of money, plenty of planning, and many critical steps. Both buyers and sellers must navigate complex procedures to successfully reach their goal of finding and purchasing the right home or finding the right buyer and selling their current house. Some of the most luxurious homes on the market are Hoboken houses for sale. Whether you are looking for a home or putting yours on the market, there are several steps you need to take first.
Find an excellent agent
It may seem appealing to save on commission fees and attempt to sell your home on your own, but that is a road fraught with peril. The same is true of buying. Experienced agents know that most "for sale by owner" transactions end in setbacks and stress. The truth is that most homeowners don't have the training, knowledge, or experience to deal with the complications and roadblocks that can occur during real estate deals.

Much like representing yourself in court, buying or selling real estate on your own is a bad idea. You want expert guidance. Find a trusted agent who knows the market in the area. Look for online reviews, and ask for referrals from family and friends. A good agent can save you lots of aggravation and provide top-tier negotiating skills, so you will pay less or get top-dollar offers for your home.
First steps for sellers
Sellers need to begin preparation 2-3 months before putting their homes on the market. Your agent will help you with the timeline. Here are some of the important first steps to take.
Improve your curb appeal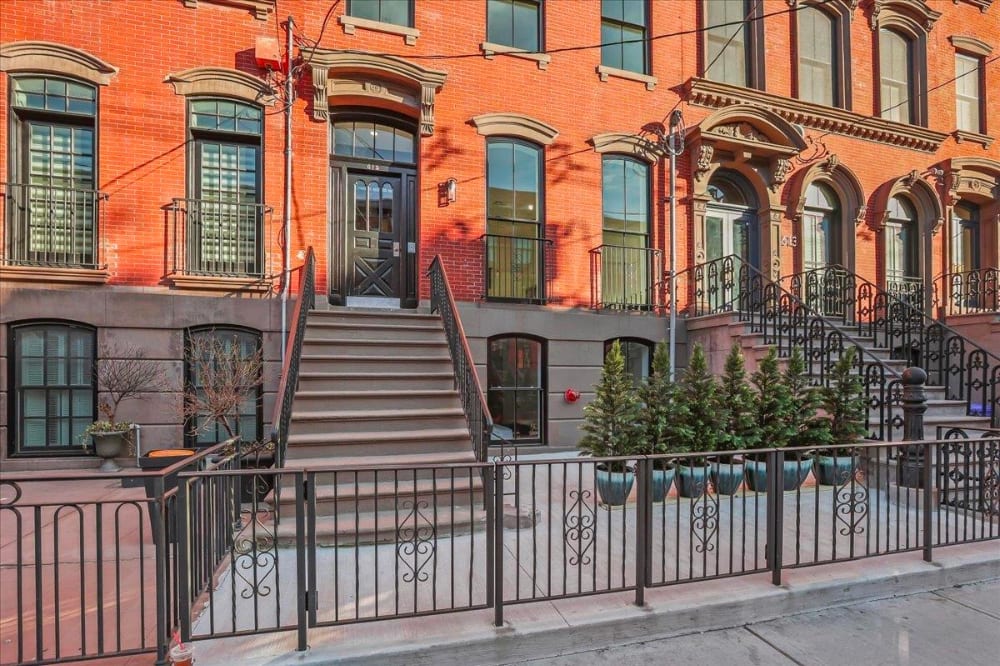 Photo courtesy of Realty MLS

Of course, you want prospective buyers to have a great first impression of your home to set the stage for success. Curb appeal can make a huge difference in making your Hoboken home look more desirable. If you have grass, make sure that it's cut and the lawn is nice and green. Trim the hedges and freshen up any flower pots for a pop of color and allure. Have your front door painted or even replaced to create a modernized look. Entryways and porches can make a positive impact. Spruce them up with potted or hanging plants and perhaps a stone veneer. Don't neglect exterior lighting, either. It's the first thing buyers will see when looking for your address. A new lighting fixutre is always a good idea.
Clean, declutter, and depersonalize
Even the nicest of houses won't look their very best unless they are clean. Thoroughly clean all floors, walls, ceilings, windows, doors, and everything else. Have your carpets shampooed or steam cleaned, and don't forget to scrub the sinks, tubs, and tiles. Get rid of all clutter. Excess furniture and other items make rooms and storage spaces look smaller than they truly are. Remove family photos and personal memorabilia. You want prospective buyers to imagine themselves living in your home rather than feeling like they are in somebody else's.
First steps for buyers
As a buyer, you don't have to worry about prepping a home, but there are still several steps you should take before jumping in and beginning your search. You've already hired an expert agent, so let them guide you through these steps.
Set a price range
Before looking at houses, you need to have a realistic budget to focus on. Go over your finances carefully. Look at your household income, monthly expenses, and credit score and decide what you can realistically afford. It's also a good idea to get pre-approved for a mortgage with a lender. That way, you will know precisely what you can afford and not have to worry about the approval process after you've already bid on a home you love. Make sure you save enough money for a down payment and put aside extra for any repairs or renovations you may want to make, as well as the closing fees.
Decide what you need and want
Your search will be significantly easier if you know exactly what you are looking for. Decide where you would like to live, specifically which community and neighborhood. Figure out home many bedrooms and bathrooms would be ideal. You may have to compromise. Think about the style of the house, how much outdoor space you need, and whether you'd rather aim for new construction or an older home. Also, consider additional amenities, such as media rooms, home gyms, saunas, or whatever else you would like to see in your new home. Your agent will be able to help guide you to the properties that meet your needs and desires.
Make an offer
When the right home comes along, you will then make an offer. Base it on the asking price, how much you have been approved for, and how significant of a down payment you can afford. Your agent will guide you in devising a compelling, competitive offer. The seller may accept, reject, or make a counteroffer. Your agent will then guide you through the negotiation process until a contract and terms are agreed upon.
Conduct an inspection and appraisal
When you have agreed upon a price with the seller, you should have the home inspected. After all, no one wants to buy a home with any unpleasant surprises, such as structural damage or unforeseen problems with the plumbing, electricity, or heating. It's also important to have the value of the house appraised.
Buying a new home can be an exciting adventure, and selling your property can provide an excellent return on investment. Neither is an easy task, though, and care must be taken to proceed smoothly and efficiently. For top-tier guidance through your journey in
Hoboken real estate
, contact
Properties by Southern
. This expert team is ready to help you reach all your goals.
*Header photo courtesy of Shutterstock